Moderator: bclaire
Duke of Orange
Posts: 9754
Joined: Sat Jun 15, 2002 1:05 am
Location: Amsterdam, Hollandland.nl
a

ND

y

H

.

Ever tried to outstare a mirror?
In the bathtub of history the truth is harder to hold than the soap, and much more difficult to find!
---
DD100 | OR100 | OR50 | CS50 | R30H | AD30H | CR120C | TT
3 x PPC412 | PPC212OB
Bax B. | Amp D.
Vox AC30C2X + V212C
Playing Les Pauls and Teles...
---
New Member
Posts: 47
Joined: Thu Oct 02, 2014 10:21 pm
Location: Bristol, UK
Here's an an ample of a hand wired amp with turret board construction.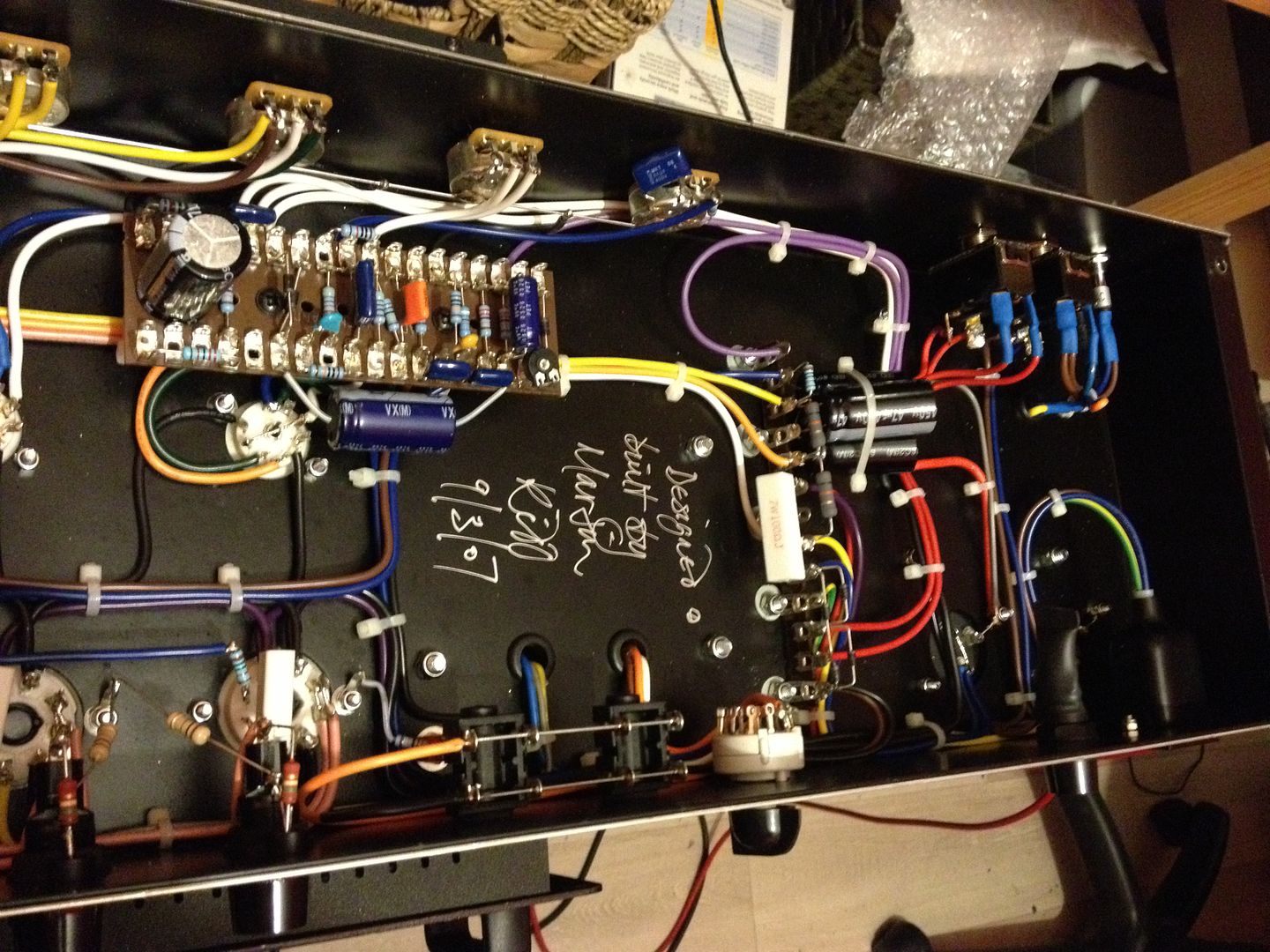 Jim Root #4
Cornford RK100 and MK50
Cornford and Trace Elliot cabs
Gibson, Gordon Smith, Musicman, Fender guitars
---
Rocker
Posts: 209
Joined: Fri Oct 25, 2013 9:16 pm
Location: 41.8 degrees north
excellent post sir
a.hun wrote:PCB. The green bit with lots of white printing and copper lines is your printed circuit board.

In fact apart from the rare modern Custom Shop amps Oranges have ALWAYS been PCB construction. Though they used to chassis mount the valves instead of mounting them on the PCB itself as is done these days. However if the board itself is strong enough (yes) and is properly reinforced with spacers (yes) than unless there are any heat related problems (not so far) there shouldn't be any real big reliability issues.

Properly done PCB is just as reliable as any other build method, and is actually

less

likely to have noise issues due to random positioning of wiring, components etc. With PCB build everything is all laid out pretty much exactly the same from amp to amp. It is really just cheaply put together PCB electronics that give the technology a bad name. But a poorly built amp is poorly built even if that is all done PTP by hand!

PTP is in no way inherently more reliable than PCB. See this thread

HERE

comparing old Marshalls and Hiwatts, in particular posts #15 and #22.

During the later 70s Marshall went to PCB construction, but the reliability didn't drop at all at with that change. It was only years later (around 1990) when that happened, when they introduced a new range (JCM900) which were built to a price instead of to their own traditional high standards. The 70s Marshall amps (both pre PCB and PCB built) being discussed on that thread, alongside '70s Hiwatts, vintage Oranges and just a few others were (and if well maintained still are!) about as reliable as

any

amps ever built.

Remember though, there is more in many modern amps to go wrong than with those simpler older amps. Have a look at the inside of my OR120. Ignoring the (non original) doubled up capacitors on the PCB there is a lot less happening inside there than in your RV, right?

Your amp (like my Rocker 30) is put together to a pretty decent standard. Not the worlds best quality, but no huge issues either IMO. (Use of press on spade connectors being by far my biggest complaint!) Well above average run of the mill build quality at any rate.

But... with more complicated circuitry like the more complex modern amps there will inevitably be more potential for things to go wrong. Thats just the way it is and the reason why a lot of us believe simplest is usually best. Even so the vast majority of all problems with good quality modern valve amps are with the valves themselves. Keep a couple of spare valves and fuses handy and you and your amp will be fine!

Happy?

Andy.
what can be asserted without proof can be dismissed without proof
---
Very interesting info here
Orange Rockerverb 50 , Orange TH30 , Orange Or15 , Orange PPC412 , 2000 Gibson Les Paul Classic , 2013 Gibson Les Paul Traditional Pro II with Floyd Rose , 2010 Gibson SG Standard , 2009 Washburn N4 , 90s ESP Sunburst Tiger , 90s ESP Skull and snakes
---
Solid State awesomeness: CR120
---
Forum Moderator
Posts: 17489
Joined: Thu May 02, 2002 9:19 pm
Location: Outside Boston MA, USA
Contact:
We now can add the total hand-wired Shiny Terror/ 10th Anniversary Tiny Terror to the list, which distinguishes itself from the previous hand-wired TT by being hand-wired without a turret board.
---
But I thought the original hard-wired TT didn't use a turret board either?
---
Duke of Orange
Posts: 9754
Joined: Sat Jun 15, 2002 1:05 am
Location: Amsterdam, Hollandland.nl
jontheid wrote:But I thought the original hard-wired TT didn't use a turret board either?
Indeed!

With the new one you are paying for 'shiny' - shiny costs!

Andy.
a

ND

y

H

.

Ever tried to outstare a mirror?
In the bathtub of history the truth is harder to hold than the soap, and much more difficult to find!
---
Guys I am not an expert and a complete noob here just want to know your opinion on this amp manufacturer
https://www.icrfq.com/brand/563
, would be very grateful for a review!
---
Who is online
Users browsing this forum: No registered users and 6 guests