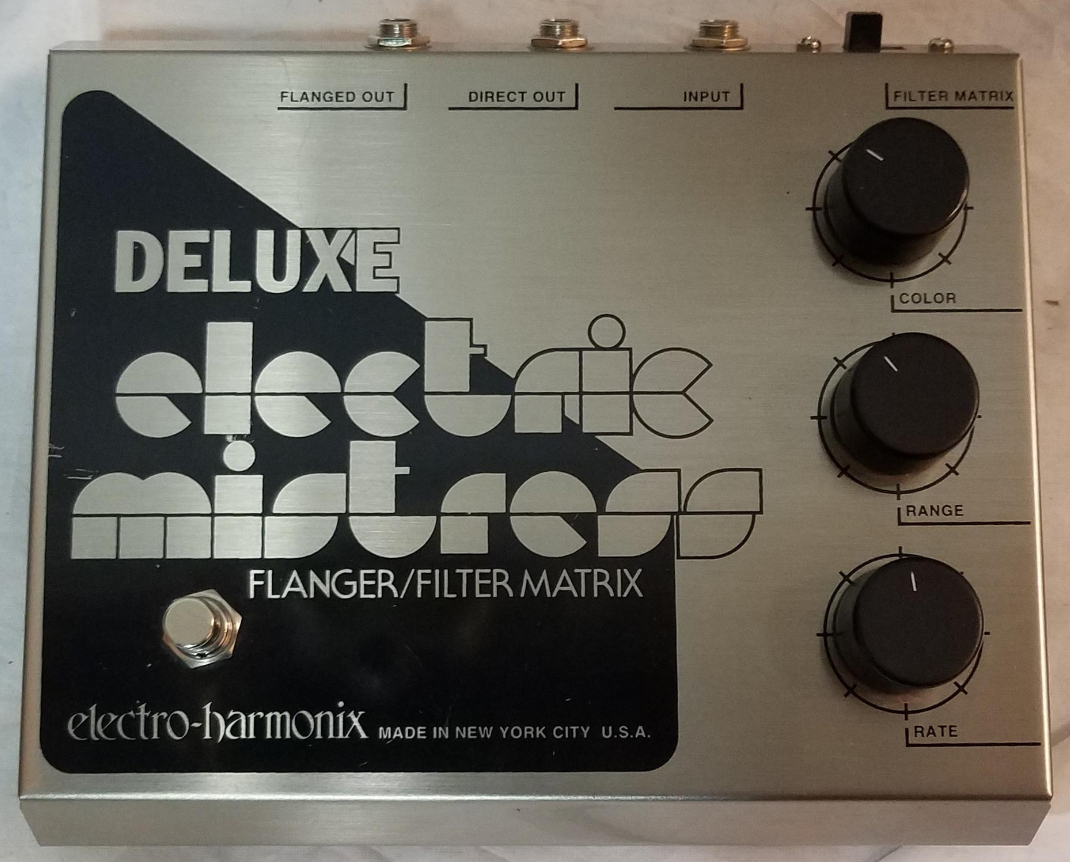 Bought a used Deluxe Electric Mistress off the web several months ago. It's a v5 model, made sometime between 2000 and whenever they finally stopped making the old gigantic-sized analog ones. The XO sized green label ones they make currently are all digital apparently and don't sound quite as good as the old ones. It's become one of my favorite pedals, and despite the HUGE amount of real estate it will take up, I can't imagine NOT having it on a pedalboard.
I've talked about it elsewhere on here before maybe, but about a year ago now, I sold my old rackmount rig (Marshall JMP1 & Peavey Classic Series 120/120 tube poweramp) and used the proceeds towards a Rockerverb 100 mk3. I wasn't getting the pure tube amp sound I wanted outta that setup, and I thought that going old-school amp + pedals would be easier. I dunno if it's "easier" at this point, both have proven to be tedious at times. Whereas before, I was dealing with most of my effects in a couple of Digitech rackmount units, now I'm attempting to assemble a decent sized collection of pedals that I can use to get any of the sounds I commonly used with rack units. I kinda had a list of all the pedals I was gonna need, and at this point, I have most of them. There's only 2 or 3 more that I'll need.
So now I'm at the point where I'm trying to figure out what brand and size of pedalboard I will need to fit all this crap on there. And I also need to figure out what model of power supply I'll need to power all this stuff. And so far, only 2 pedals are gonna be oddballs. One is a Fulltone Octafuzz which has a reverse polarity 9v power requirement... and that's a simple solution, just gotta get a reverse polarity adapter extension. But the Deluxe Electric Mistress is looking like it might be a problem.
The plug size is the same as any other standard 9v Boss plug. The problem is it requires 24v. I've looked around a bit and I can't seem to spot any power supply bricks that have an option for 24v. I've seen plenty with spots for 12 and 18v out, but none with a 24v slot. Any ideas?