Moderator: bclaire
Like I do!

http://www.youtube.com/watch?v=-M9vOkrlVrM
My kid WILL rock, so help me...
---
Orange Master
Posts: 2785
Joined: Sun Jan 24, 2010 12:21 am
Location: UK
Ha ha nice one.
I had visions of guiding my son in some direction or other at something he might want to do with a passion.
First off we had a girl.... then second off we had another girl

---
Orange Master
Posts: 1436
Joined: Mon May 25, 2009 3:17 pm
Location: Dunstable UK
Ha ha that's wicked. Rocking haircut too!
Tone is everything
---
Duke of Orange
Posts: 6776
Joined: Tue Aug 18, 2009 9:08 am
Location: Derby, England
Bless!

That's pretty sweet and cute!

Do you have any idea if his sense of rythm/musical ear is any good?


My cousin has perfect pitch ear, is exceedingly talented with guitar and most instruments he picks, and got married with a classical singer and piano player.
By 12 month old, it was obvious their daughter and inherited many of their skills.
Seriously, she ould follow songs singing pitch, and she would dance in perfect rythm when I played guitar to her, before she could even run confidently!!!
Now 15, she plays guitar, violin and others and is really "naturally" good at it - though she has been well taught too!!!
Ant

Orange Gear: RV50 MKI, R30, AD15, AD5, PPC212
Past Orange: Orange AD30TC Combo, Tiny Terror

Guitars: Gibson Les Paul Standard Faded, Vigier Expert Retro 54, Gibson SG 70s Tribute, Aria Pro II RS X80, G&L ASAT Special Tribute
---
Well he seems to have rhythm alright; he just started headbanging on his own and kinda trying to sing. We'll see how it pans out I guess.

---
My 17 month old daughter has taken to dancing by wiggling her arms, dropping it a couple times, then literally jumping straight up in the air and landing on her butt. I have yet to capture these moves on video, but wendigo is making me think I should.
mmmmmm drop
Guthrie Matthews Method
http://www.guthriematthews.com
" onclick="window.open(this.href);return false;
Modified Fender Custom Shop Jazz, Warmoth P/J clone,
Orange AD200 MkIII, Barefaced Compact
---
Orange Master
Posts: 2316
Joined: Sat Dec 03, 2005 11:37 pm
Location: United Kingdom
nice one

All my kids had guitar stuffed in their faces before they could walk....
My son (24) likes music and going to gigs, but doesn't show any interest in playing
My daughter (22) likes music and going to gigs, dabbles in a few instruments but her favourite being drums
My younger daughter (11) likes music, bit young for gigs , plinks on my guitars from time to time but has chosen recently to learn the flute (no influence from me)
The main thing is they grow up having fun with music, its nice to be able to share that with them

good luck!
Mark
---
Orange Master
Posts: 3025
Joined: Thu Mar 01, 2007 4:47 am
Location: USA
Cool do!
Bob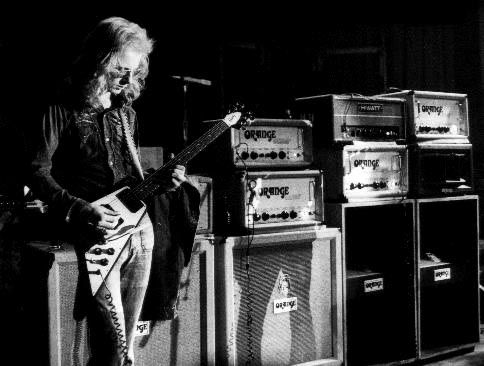 http://www.purevolume.com/oxymora
" onclick="window.open(this.href);return false;
---
Man I wish I could find the video of my niece playing with my brothers guitar.
She starts out plucking random strings and singing Twinkle Twinkle Little Star. She then looks up, notices she is being filmed and starts wacking the strings really loudly and yelling "Rock n Roll!". She then makes the Devil Horns symbol and goes back to playing Twinkle Twinkle. She was probably 2 at this point.
To this day my brother blames me for teaching her the horns. I swear I never made that symbol anywhere near her

She also head bangs to Knights of Cydonia by Muse.
Orange Gear:
AD200B MkIII
Terror Bass MkII
OBC810

Non-Orange:
Barefaced Super Twin

Basses:
Sandberg Electra VS4
Polaris Manta V Custom
---
My ex has been brutal about keeping my son working his violin... I could never do that, but I'm glad she has. It's a skill I feel is worthwhile... so complex and dynamic. I mean, not that video games aren't worthwhile and dynamic too.

He's 8 and been playing for over two years. But he's recently started playing to the note and not just the position.... just like a switch turned or something.
---
Who is online
Users browsing this forum: No registered users and 48 guests