Moderator: bclaire
What do you guys think of those as good quality high gain distortion? Which one would you recommend?
---
I have the ReezaFratzitz and the Crunch box. I like the Reeza best of those two.Both have their share of white noise, but that is the nature of those type pedals.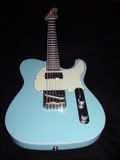 Paint it blue 4 soul.
---
New Member
Posts: 11
Joined: Fri May 21, 2010 12:58 am
Of those I only have the Crunch Box and I like it a lot. It's pretty much an angry JCM800 in a stomp.
---
Prince of Orange
Posts: 18031
Joined: Sun Apr 25, 2004 11:57 am
Location: Wales
I owned both, kept the Reeza... the CB has its place, but is all mids punch and nothing else. The Reeza has more to it than that.
Joe

G(sus) saves

Orange AD15, Matamp 1224, Fender 'JD' Tele, G&L ASAT, Duesenberg Starplayer TV, Eggle Kanuga, Avalon D25, Warwick FNA Jazzman, Eden Nemesis / Bergantino EX112S, Eastman MD305 & other stuff...
---
I'd really like to know how the Reeza compares to the Mighty Red Distortion. Anyone had a chance to compare them?
---
I managed to try the Mighty Red Distortion pedal today. It's an amazing pedal. Worth considering despite it's cost.
---
Who is online
Users browsing this forum: No registered users and 62 guests